When we book our travel tickets, rather than avoiding holidays, we like to head out, join the locals and celebrate with them.
Among these international festivities is our favorite, Christmas. Our Santa-searching journey started in Hong Kong, a city that never sees snow. Walking on Paterson Street, even the metal poles standing along the streets were wrapped with sweaters. In the harbor at Star Ferry Pier, we came across an amateur band, who might be University students, dressed in Santa Claus attire. They were singing Christmas songs. We stopped our journey to stand in front of them. Unconsciously, we found smiles had climbed onto our faces and we sang along with the band. Everyone who walked past turned their heads to the melodies and whispered, "Merry Christmas." It was then we began to fall in love with the festival. Santa Claus is actually around and the best gift he gives to us is the joy that permeates the faces we encounter. If there's a heaven, we have enough reason to believe that it collided into the city.
Christmas Eve is a night without sleep. We kept walking and sharing the joy of strangers. On our way back to the hotel, happiness didn't yield to our souring legs. Climbing into a double deck bus, the regular Ding Dong sounds coming from the tracks played another Christmas song. A girl, holding a Santa Claus' hand, could not board the bus as it was too packed. She said with an innocent tone that 'Even the Santa could not climb into a bus'. Everyone on board laughed. This was 6 years ago. The memory has never faded.
On the next consecutive Christmas, we were lucky enough to cross the ocean and spend Christmas in New York. Snow fell on the roof of the Christmas Market in Union Square, shining lights breathed on the Christmas Tree of Rockefeller Center, and there was one uniform expression on the faces of people skating on the rink at Bryant Park. Joy. Trotting along the streets, Christmas melodies embraced us. If shopping windows had eyes, they would have seen enough smiles to build up the sweetest dream. It was then that we began to understand the spirit of Christmas, which is sharing and giving. You show your love and joy, and you will get more love and joy. The iconic lights spelling "Believe," hung on the facade of Macy's Department Store, shed their light. When we were too touched to stare at it, a glimmering galaxy formed in front of our wet eyes. In a cold world, it's love and joy that bring in warmth.
We always believe that Santa likes Guangzhou, too. Every year, we decorate our shops with real Christmas trees and Christmas wreathes. We were treated with great love and joy on our holiday travels and we would like to pass more love and joy to our neighbors and visitors.
Christmas arrives at LOCK CHUCK, with joy and love. Again, we hand pick a real Christmas tree. Our friend Bloom in December is designing a new wreath to highlight the festive vibe in our newly decorated home. Artist Evan and Picasso are also inspired by the spirit and designed a set of artworks. Our most anticipated Christmas BBQ party will be held on the 22nd of December. We all will play Secret Santa by preparing unexpected gifts for strangers. We are sure that a visit creates a life long memory. Christmas drinks are to be unveiled: Pistachio Matcha, Peppermint Chocolate Mocha, and Sea Salt Caramel Latte. Every cup is made with love and joy.
Jingle bells, jingle bells. Joy, here.
Welcome to LOCK CHUCK Christmas BBQ Party
BBQ, Christmas Cookie Workshop, Festive Perfume Workshop, Secret Santa, Christmas Choir and more.
Time: 22nd December 2018, 7pm-10pm
Early Bird 98RMB
On Site 138RMB
Price includes BBQ, Christmas drinks and a Christmas pin.
Drop a comment below to book a spot.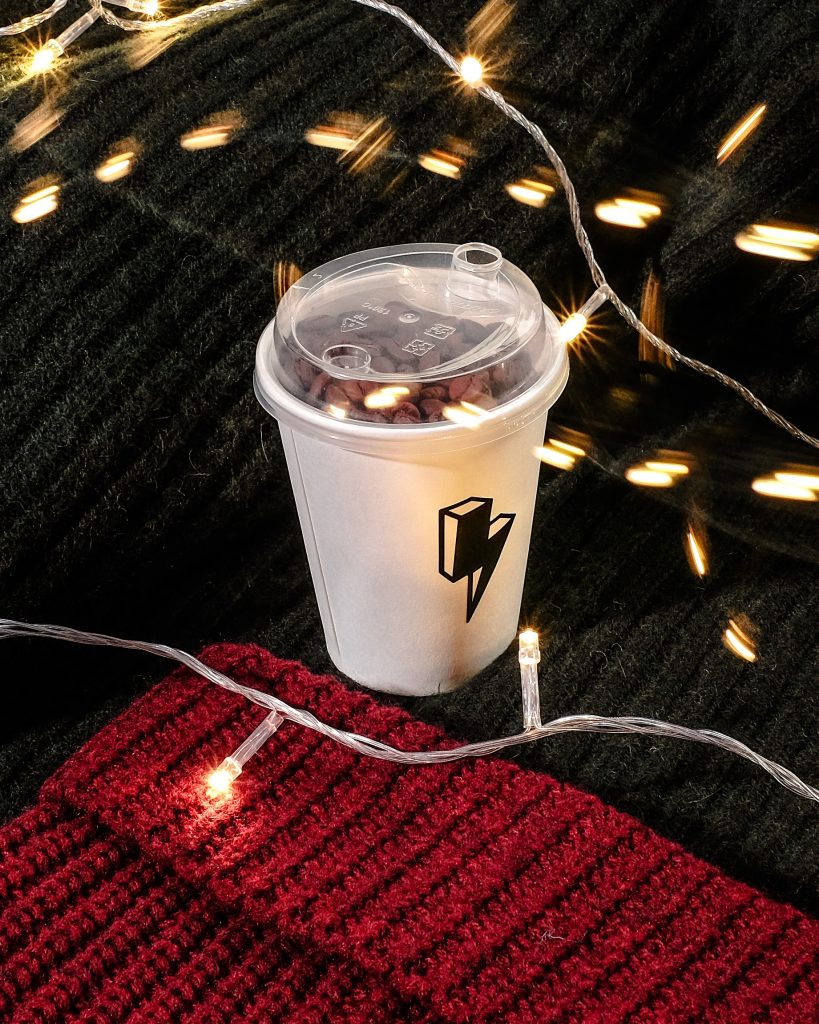 每一次踏出国界,探索新的目的地,我们都专门选择当地的节庆时分,和当地人一起庆祝,总能留下最深的回忆。

在那么多的节庆当中,我们最喜欢的是圣诞节。即使踏入成年人的世界,我们仍旧坚信圣诞老人的存在。追寻圣诞老人足迹的历程始于香港,一座从不下雪的城市。
百德新街路边的铁栏杆并不羡慕双手紧握的爱侣,它们也套上毛绒绒的围巾,温暖同样。在天星码头,遇见了圣诞老人装扮的街头乐队,他们应该是大学生,寒风中唱着圣诞歌。我们不禁驻足,竟没有发现,笑容偷偷从他们的脸上爬到了我们的脸上,嘴角也不禁附和着他们,轻轻哼着歌谣。每一个走过的路人,无一例外,都被歌声吸引,冻住的脸颊被笑容荡漾开来,有的跟着音符哼唱,有的轻轻的点头,说声"圣诞快乐"。那一刻,我们爱上了这个节日。圣诞老人其实一直就在身边,他给我们最好的礼物就是每一张虽然陌生却毫无保留绽放的笑脸。如果真的有天堂,在此刻,我们相信,它降临在了香港。
平安夜的夜晚,怎能提早入睡?沿途的笑脸太多太多,只祈愿将这夜延长,把每一张都珍藏。走回酒店的路上,喜悦的心情战胜了酸痛的双腿。踏上一辆叮叮车,叮叮当当的有节奏的声响好像继续演奏着圣诞曲,不让这开心的时刻落幕。一个女孩,手牵着穿着圣诞老人衣服的男朋友,没能挤上叮叮车,笑着嘟囔:"圣诞老人都上不到车啊。"车上的乘客听到后一起笑出来。这是六年前,时至今日,依然历历在目。
第二年的圣诞节,我们继续跟随圣诞老人的步伐,这一次,有幸在白茫茫的纽约踏下搜寻的脚印。鹅毛大雪一片片覆盖在联合广场圣诞小镇的屋顶;一闪一闪的灯光在洛克菲勒中心的圣诞树上唱着歌;布莱恩公园上的溜冰场,所有的人们都挂上一样的表情,那就是开心。沿着马路,圣诞的音符紧紧把我们拥抱。如果商店橱窗有眼睛,那么他们一定见到了全世界最多的笑容,晚上的梦,一定是和蜜一般甜。那时候,我们开始理解圣诞的精神:分享和给予。你付出开心和爱,你就收获更多的开心和更多的爱。梅西百货大楼标志性的灯光,拼出一个字"Believe"。难以抑制心中翻涌的波浪,凝视着这一抹光亮在眼前变成模糊的浩瀚星海,聚焦朦胧再扩散。脸上的泪痕,是喜悦的印记。在冰天雪地,唯有爱和喜悦,让温暖带来。
我们相信圣诞老人也爱广州。每一年,我们都用真正的圣诞树和圣诞花环打扮店铺欢迎他。在搜寻圣诞老人的旅程上,我们被陌生人付出喜悦和爱,回到广州,我们也努力传播更多的喜悦,更多的爱。
圣诞来到LOCK CHUCK,带着喜悦还有爱。今年,我们再次亲手选了一棵健康茁壮的圣诞树。好朋友Bloom in December正在紧张地为我们编织圣诞花环。艺术家Evan和Picasso也没有停歇,设计了一系列的艺术作品,让圣诞的精神由眼及心。备受期待的圣诞BBQ派对将于12月22日晚上举行。我们每一个都将扮演神秘的圣诞老人,彼此打开一份未知的惊喜。我们相信,这一晚,足够恒久远。圣诞限定的饮品现在已经上市:开心果抹茶拿铁,薄荷摩卡,海盐焦糖拿铁。每一杯,都充满喜悦和爱。
钟声正在敲响。喜悦,在此。
欢迎来参加LOCK CHUCK圣诞BBQ派对
现场BBQ,圣诞姜饼课堂,节日香薰分享会,神秘圣诞老人,圣诞合唱团,还有更多更多。
时间:2018年12月22日(周六)晚上7点-10点
早鸟票:98元
现场票:138元
票价包括BBQ,圣诞饮品以及圣诞徽章。
在文末留言,预定位置。